Newswire – October 6, 2011.   HED International, Inc. current year sales show a significant increase in demand and shipments of indirect fired rotary tube furnaces used in emerging green technology applications including processes for reclaiming fly ash and asphalt millings, super drying micro-porous zeolites, and calcining lithium ion chathode materials.  The performance proven UNIQUE/PERENY RTC Series of rotary tube furnaces is available in a wide range of sizes with temperature capability to 1800 Celsius and optional features including special atmospheres, material feeders, dual or tandem tube designs, and a variety of tube materials.  Call an HED International representative today at (609) 466-1900 or visit our web site at www.hed.com for more information.
Newswire – September 29, 2011.
UNIQUE/PERENY Fast Fire sintering and binder burnout closed loop furnaces engineered by HED International are fully automated.  Designed for manufacturing a wide range of products when dependable precision is essential.  Energy saving design of low thermal mass molded ceramic fiber board furnace lining and conveyor is setting new performance standards.  This includes faster heat-up and cool-down capability whenever necessary.  Custom designed systems are engineered to meet specified requirements and include robotic load and unload stations.
The Model TC-71LC Lab Coater is rapidly becoming the new standard bench top coating machine used by the world's leading manufacturers of web coated and tape cast products. Named the "Silver Bullet", the TC-71LC Lab Coaters supplied by HED International are routinely used to make the finest solar products, batteries, fuel cells, dermal patches, flat panels, bandages, prepegs, leds and electronic components.
The coating equipment options that are available with the TC-71LC include; continuous web speed control, substrate unwind and take-up stations, convection and infrared drying, coating fluid retainers, slot dies, blades and roll coating applicators. The TC-71LC can be used to apply many types of coating materials and adhesives onto a range of substrates and laminations including polymers, paper, metal foils, textiles and non-wovens. Perfect for quality control and product development or when precision, reliability and versatility are required, the preferred choice is the Model TC-71LC.
We welcome you to visit HED International in Booth 412 at the 35th International Conference and Exposition on Advanced Ceramics and Composites. Visitors will have the opportunity to enter a drawing to win a new Ipod touch by Apple.  Exposition hours are Tuesday, January 25, 5:00-8:00pm and Wednesday, January 26, 5:00-7:30pm.   For additional exhibit information visit http://ceramics.org/icacc-11/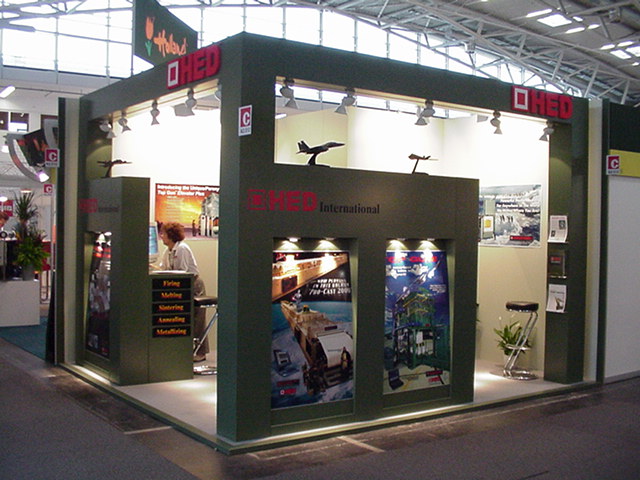 Ceramic Substrates manufactured for large scale electronic applications such as IC packages are being routinely improved by utilizing the HED International Lab-Cast Model TC-71LC Tape Casting machine designed specifically for bench scale projects. The results on Lab-Cast are scalable to larger production machines such as Pro-Cast Model machines up to 2 m wide and 50 m long. Dried cast tape of typical ceramic substrates is about 0.75 mm (0.03 inch) thick, optimum drying time or when the highest quality tape is ready to be harvested from the tape caster can be determined on the Lab-Cast. Product quality improvements such as this are achievable with the Lab-Cast on non-aqueous solvent based tapes, typically used to produce substrates and water based products as well.
The HED International Lab-Cast Model TC-71LC is designed for laboratory scale tape casting of multilayer ceramics, co-fired ceramics, ceramic substrates, fuel cells, flexible solar films, battery films, orthopedic bandages, transdermal film and thick film products.  For most of these products, when precision and reliability are required at a relatively low cost for quality control or research and development applications, the preferred choice is a Lab-Cast Tape Caster.
Tape casting is a straight forward method of forming thin sheets or films of material that is inexpensive, scaleable and may be used with any ceramic, metal or polymer that can be mixed in a liquid suspension or slurry. Technologist who use a bench top Lab-Cast Tape Caster are able to readily transfer their results to large production scale machines.
HED International has designed complete turnkey systems for tape casting co-fired ceramics including LTCC.  These facilities have been implemented successfully by companies with operations in the US and Asia.  The bottom line result is faster start up, increased precision, reliability, operating simplicity, low implementation cost and high return on investment.  The total is a "soup to nuts" package.  The key component is the tape casting machine which can range in size from the bench scale Model TC-71LC Tape Caster to much larger scale production machines depending on the out put required.
Individual components are available including formulations, mixing, milling and conditioning equipment and quality control tools.  Technical guidance is included in the turnkey package and always available on a per diem basis.
New Lab Scale Casting/Coating Machine is Perfect for R&D!
The new Pro-Cast Series Lab Scale Tape Casting/Coating Machines offer a simplified and inexpensive forming method for product development, research, and quality control. The new machines are the latest in the popular series of casters and coaters from HED International and are simple to use yet sophisticated enough to provide a versatile research and development platform.
The Lab Scale Machines are designed with an enclosed drying chamber and removable tempered glass view-ports for ease of product access and visual inspection. Precision casting and coating applications are accomplished with a calibrated doctor blade set on a solid granite plate. Independently controlled heaters and an exhaust fan are provided for counter-flow circulation and dynamic management of the drying process and vapor removal. A variable speed drive with both carrier payout and removable take-up spools are also included. At less then 10′ in overall length, they are suitable for either tabletop or freestanding installations. Each machine comes complete with an integrated control system, wired and ready for immediate operation in your facility. A variety of custom options are also available.
Developers who successfully produce prototypes on the Pro-Cast Series Lab Scale machines can be confident that similar results will be produced when they transition to the larger scale Pro-Cast production machines.
HED International, a leader in the design and manufacture of processing systems, has installations worldwide used in the production of advanced ceramics, fuel cells, rechargeable batteries, capacitors, electronic materials, thermal plastic adhesives and other tape cast products.
For more information on UNIQUE/PERENY Series of energy efficient kilns and furnaces, please contact:
HED International, Inc.
P.O. Box 246, 449 Highway 31
Ringoes, NJ 08551
Fax: 609 466-3608
Phone: 609 466-1900
Web-site: www.hed.com
Email: info@hed.com
Consider The Advantages Of High Temperature Firing In HED International Top Gun Series Of Kilns
HED International, TOP GUN, elevator kilns are designed for a wide range of premium, quality high temperature ceramic products. The kilns are available in standard sizes from 24 to 45 cubic feet capacity. Operation is with gas, oil or electric dependent upon the technically optimum method of firing the product. The HED International clear objectives of improved performance, reduced maintenance, and overall simplicity have been achieved by a variety of means.
Two zones of temperature control are provided to insure superior uniformity throughout the entire product setting space. The fuel fired kilns are equipped with specially modified high velocity burners to provide smooth temperature control between 100 C and 1700 C, or even higher with oxygen enrichment.
The TOP GUN series of kilns make use of proven, non-proprietary, readily available combustion components to provide for economical maintenance when required A water-cooled base section, with alloy construction for lifetime performance, is employed to provide the required high temperature seals. Low maintenance kiln cars are constructed with a proven interlocking refractory design.
Because the ISOMAX combustion system is divided into two zones, top and bottom, the heat input is regulated to provide the highest degree of uniformity, in spite of load variations. Individual thermocouples placed at high and low elevations within the firing lane independently and continuously monitor the output of each burner pair.
Generously sized fire lanes with high velocity burners cause vigorous internal recirculation, to further augment temperature uniformity. The spent combustion gases leave the kiln through a shielded crown slot, thereby reducing the amount of free radiation out the stack which in turn improves temperature uniformity and reduces fuel usage.
During the heating portion of the cycle, both air and fuel are varied and separately controlled for superb flexibility of the firing environment. For the fastest cooling cycle, burner-cooling air is injected into each fire lane under complete control. Auxiliary air is also added during the final segment for additional cooling power. Operationally, this system offers the finest in precision heating and cooling of technical ceramics.
HED International, Inc. is a leader in the design and manufacture of processing systems for technical ceramic and non-ceramic materials. For more information on our PRO-CAST® Series of Tape Casting/Coating Machines or our UNIQUE/PERENY® Series of energy efficient kilns, please contact
HED International, Inc.
P.O. Box 246, 449 Highway 31
Ringoes, NJ 08551
Fax: 609 466-3608
Phone: 609 466-1900
Web-site: www.hed.com
Email: info@hed.com
HIGH TEPMPERATURE KILNS FOR ADVANCED CERAMICS
by James W. Dennis – President of HED International, Inc
The continued trend toward the development of advanced ceramic materials and related products has resulted in a greater need for reliable, specialized high temperature kilns. In particular, gas fired high temperature periodic (GFHTP) kilns are commonly used to process engineered alumina ceramics for applications such as semiconductor manufacturing equipment, microelectronics, and biomedical devices.
These GFHTP kilns typically fire to temperatures between 1550°C and 1820°C and can range in size from 0.2 cubic meters to as large as 50 cubic meters. Standard features include a very low 60°C startup and hold capability, excellent temperature uniformity throughout the kiln including +/- 5°C at low temperatures and approaching +/-1°C at elevated temperatures, and the ability to precisely control the kiln atmosphere between oxidizing and reducing conditions. These features make the GFHTP kiln an important part of many advanced ceramics production processes.
In addition to the demands of emerging technologies, advances in refractory materials, combustion components, and control systems used in GFHTP kilns have also brought about further improvements in the firing process. Moreover, engineering know-how, manufacturing experience and technical support are much more critical for a new GFHTP kiln installation than traditional thermal process systems. While there are applications better suited to continuous processing or electric radiant heating, in general, those high temperature processes that require the best possible temperature uniformity, firing flexibility, and production efficiency will find the modern GFHTP kiln a good fit.
The most common GFHTP kilns are box, elevator, bell, and shuttle type designs. Factors such as setting space needs, firing turnaround time, factory floor space, financial constraints, and personal preference will influence the decision to choose one type of GFHTP design over another.
From the process perspective, setting size is an important consideration when choosing the kiln type. For example, temperature uniformity is excellent in a front-loading box kiln up to 0.8 cubic meters after which limitations of burner configurations as well as loading restrictions become limiting factors to performance. In sizes up to 6 cubc meters, elevator kilns offer excellent temperature uniformity by providing more possible burner configurations, loading flexibility, and kiln car sand seal system.
Bell type designs offer the greatest temperature uniformity in relation to overall kiln size because they utilize a downdraft exhaust system that greatly reduces the thermal losses that occur in updraft systems. Bell kilns recently supplied for technical applications in the 50 cubic meter sizes have provided temperature control within +/-1°C from cold to soak. However, these are design generalizations, as both box, and elevator types may be designed with downdraft exhaust and recuperator systems. In addition to the setting size, the density and overall weight of the product, the method of loading and unloading the product, and the length of the firing cycle are also important considerations when selecting the kiln type.
Box kilns are better suited for small production cycles or research and development firings in which the product can readily be loaded and unloaded by hand. Elevators offer the best of both worlds, providing both versatility and production capabilities. Bell Kilns are ideal for volume production of technical ceramics and product loads that are especially large and heavy.
Manufacturer's of technical ceramics continue to make products that push the envelope of materials engineering. These products are much more expensive per cubic centimeter than their traditional ceramic forbearers ever were, and the firing process requirements are far more demanding and critical. Fortunately, the modern gas fired high temperature periodic kilns is meeting those requirements today.
HED International, a leader in the design and manufacture of processing systems, has installations worldwide used in the production of advanced ceramics, fuel cells, rechargeable batteries, capacitors, electronic materials, thermal plastic adhesives and other tape cast products.
For more information on UNIQUE/PERENY Series of energy efficient kilns and furnaces, please contact:
HED International, Inc.
P.O. Box 246, 449 Highway 31
Ringoes, NJ 08551
Fax: 609 466-3608
Phone: 609 466-1900
Web-site: www.hed.com
Email: info@hed.com