Furnaces
SPECIAL DEALS
Great savings available on surplus, lightly used upgraded systems ready for immediate delivery with full warranty. Availability of any items listed is subject to prior sales.
For pricing and more information Call 1-800-433-5456 ext. 124
Model SCF-3 Electric Heated Front Loading Furnace (1450°C)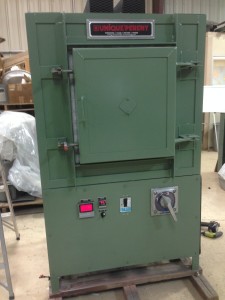 Right size for production and pilot plant scale dynamic calcining, sintering and other thermal treatment of technical ceramic materials.
Steel shell with a hinged heat seal door.
Silicon Carbide (SiC) heating elements arranged on sidewalls.
Refractory lining is multilayered low thermal rated IFB to 1600°C.
Honeywell DCP-200 digital programmer and temperature controller.
Electrical components provided meet applicable NFPA and NEC directives.
Overall: 38″ W x 38″ D x 65″ H
Chamber Size: 18″W x 18″D x 18″ H (~3.5 cu.ft.)
For more information call 1-609-466-1900 ext. 124 or e-mail: sales@hed.com