Ringoes, NJ, May 25, 2016 – A Procast Tape Casting/Coating Machine designed and manufactured by HED International, Inc. will be used by a leading contract research and development group for the production of coated, layered cast tape and film produced to precision tolerances up to 48″ (1.22 Meters) wide for aerospace applications.  The machine design enables the use of a wide range of feed material composition, viscosity and metering systems including doctor blades, meier bars/rods, rolls, and slot dies.  Delivery of the tape caster is scheduled for July, 2016.  HED Engineers and scientists form long term partnerships with clients to bring together many years of expertise in material preparation and fluids designed for advanced cast and coated products.
For more information visit www.hed.com , call (609) 466-1900 ext.119, or email: info@hed.com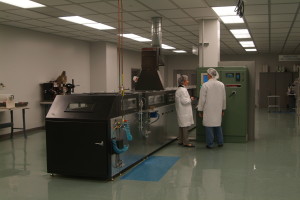 PRESS RELEASE – May 6, 2016   HED International, Inc.
A Major U.S. Aerospace Contractor has selected HED International to supply the same Unique/Pereny atmosphere tight integral heat treating equipment previously supplied.  Their application requires the utmost in dependable precision (+/-10C) and proven efficiency (300 to 1500 lbs/cycle) recognized as the decided advantages of these HED process heat systems.  These furnace designs incorporate automated loading and unloading, controlled heating and cooling under pressure atmosphere conditions.  Delivery is scheduled to begin in early June of 2016.
For more information visit www.hed.com , call (609) 466-1900 ext.119, or email: info@hed.com